Ever been listening to a song on the radio and went bonkers thinking which one is this? Happens. Plenty of times. Shazam makes the job easier for you.
App Review – Shazam
APP: Shazam
PLATFORMS: Android, iOS, Windows
DEVELOPERS: Shazam Entertainment Ltd.
PRICE: FREE
Often, you stumble upon a song and like it. But information about its OST and artist is hard to come by. This is where Shazam lends a helping hand. It listens to a song, identifies its tags, and displays it along with other relevant share and buy options.
INTERFACE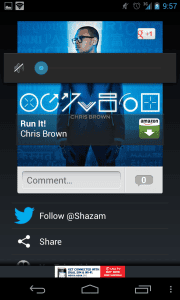 You begin with a Shazam sphere – a large S button that occupies pretty much the entire screen. Touching the S icon starts the syncing with Shazam's servers.
The app listens to the song being played in its vicinity and retrieves information about it – artiste/s, album, album, etc. The interface if not sleek is still fairly good. The developers have kept it as simple as possible and navigation is a breeze!
USABILITY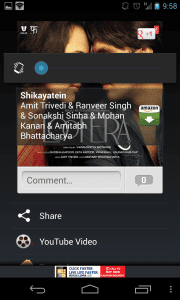 Decent. There's not much to figure here. The app is divided into 4 tabs – the first tab to listen and tag songs (the app's main purpose). The second tab keeps a history of all the music that has been identified and tagged so far by you.
The third tab called 'Chart' is like a board of top 10 tracks and the fourth tab is a Facebook widget, which lets you sign in to your Facebook account and share your Shazam activity on your timeline.
The tagging in itself is well designed and developed. The app identified most of the songs I played. It does have a problem identifying lesser-known tracks, and that is where it takes a beating.
Well-known songs are of course, most well known to everybody. Usually, it is a song by a lesser-known artist or from a lesser-known soundtrack that puts you in a fix.
Finding its details on the internet too is a little difficult, and that is when an app like Shazam would come useful. But Shazam's success rate in such a situation is barely 50%. For moderately-known or well-known songs, Shazam displays a neat 90-95% success rate.
VERDICT
If the app can get to expand its scope to identify lesser-known music, it has the potential to be a must-have app. Even otherwise, Shazam is a must-have if you are a music lover and listen to music from a lot of unknown sources on the internet or elsewhere.