Before the show began, we were shown trailers of two upcoming flicks. Out of which, one was of Great Grand Masti, in which the scenes involved jokes on the penis.
I am pretty sure that the honorable chairman of the Central Board of Film Certification won't find it obscene.
Just like he didn't find Kya Kool Hai Hum 3 obscene, which clearly stated itself to be a porn comedy.
I mean, come on, porn isn't obscene, right?
Calling porn obscene is like calling Rakhi Sawant twin sister of Megan Fox.
Do you know what's really obscene? Abhishek Chaubey's Udta Punjab.
Because it defames Punjab, promotes drugs, and encourages the youth to use cuss words. (Yes, sarcasm!)
Udta Punjab – Movie Review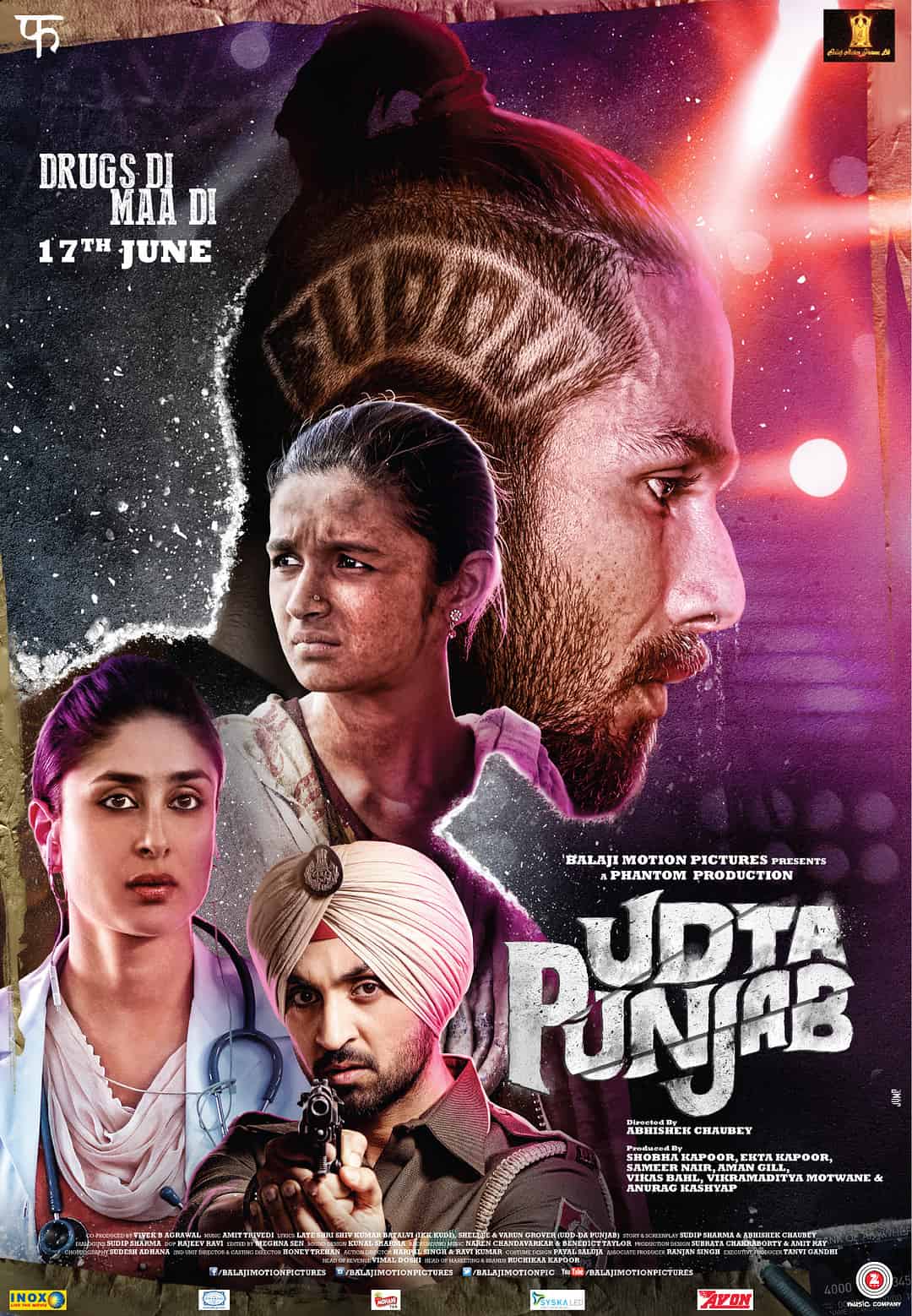 Udta Punjab is certainly worth the chaos because it certainly has flaws.
But this movie definitely has something to say and it says it loud and clear with complete flair and conviction.
In spite of the three disclaimers forced onto the movie, the background really isn't fiction.
The shockingly dismal drug problems in Punjab are well-documented, but it is only with this movie that we are confronted with the state's sickly addiction issues in mainstream fashion.
Udta Punjab is a pretty much apt title, for the way the movie begins tells that it will proceed in the boldest way with all its four protagonists clearly impossible to impede.
The word 'udta' which means flying is used in two ways: as a metaphor and as showing the state of drugs.
Anyone who has ever smacked up would clearly understand the untethering feel, the moment in which you feel completely buoyant, floating in some parallel universe.
And as the effect is over, you fall on the ground with a thump.
It becomes the most awful feeling for you and you crave to get back afloat. So you shoot up again, and this ruthless cycle continues.
As I have already stated, the four protagonists are clearly impossible to impede.
Beginning with Tommy Singh played by Shahid Kapoor, who is an 'accidental' rockstar who practically lives on cocaine and has 'Momma Da Boy' inked on him.
He makes songs by rhyming coke with cock and youth goes gaga over them.
His life goes on Kingsize until the day his house is raided and all his money, the never-ending supply of 'chitta' and all the admiration coagulate.
Next, we have ASI Sartaj Singh played by Diljit Dosanjh, who is a corrupt cop, quite happy to turn a blind eye to drug traffic until the day he finds his own brother a victim of the vicious trap.
Then enters the lively Dr. Preet Sahni played by Kareena Kapoor Khan, who runs a rehab clinic and becomes a strong beneficial influence on Sartaj.
Alia Bhatt's character is of hockey-playing migrant labor from Bihar who finds a packet of heroin and tries to make money with it.
It leads her to places and but things don't go as she had planned. Further, she gets demeaned both physically and mentally.
You will find flaws in the plot maneuvers.
There's a scene in which Preeti along with her cop companion goes to a godown in order to track down the bad guys.
The scene is portrayed as pretty weakly.
It could have been portrayed in a much better way. And the scene kind of makes you feel that the director is trying to use Kareena's star power.
This movie is Diljit's debut in Bollywood and undoubtedly, this guy has made this thing sing and that too out loud.
He adds authenticity and heft to the film.
If Sooraj Pancholi (did someone shout murderer?) can get an award for his debut performance in Hero (which was as shitty as cow dung), then I'm pretty sure Diljit will bag one too.
Despite the dirt on display, the film has its Don't Do Drugs approach inscribed right across.
What was Mr. Nahlani objecting to, really?
After watching the movie, my verdict is that the movie is as obscene as the system of the country we live in.
Verdict – 3.5/5