Don't you absolutely hate it when your dress has a frayed thread that keeps dangling no matter how many times you cut it? Well, that's the movie Fan for you.
It's really really good but has so many gaping holes at so many places, you almost want to give up. Basically, it's like Rohit Sharma.
The movie Fan is about Gaurav Chandana, who is a doppelgänger of superstar Aryan Khanna. And according to Gaurav, if he is, Aryan is. If he isn't, neither is Aryan.
Gaurav's life is all about Aryan, his movies, his cutouts, the small details of Aryan Khanna's life, and following it to the T. Gaurav is, as he claims, not a fan.
Aryan Khanna is his life. The sole aim of Gaurav's life is a meeting, a hug, and a photograph with his favorite superstar. And then, like a true Dilli ka Munda, life set ho Jayegi Ji.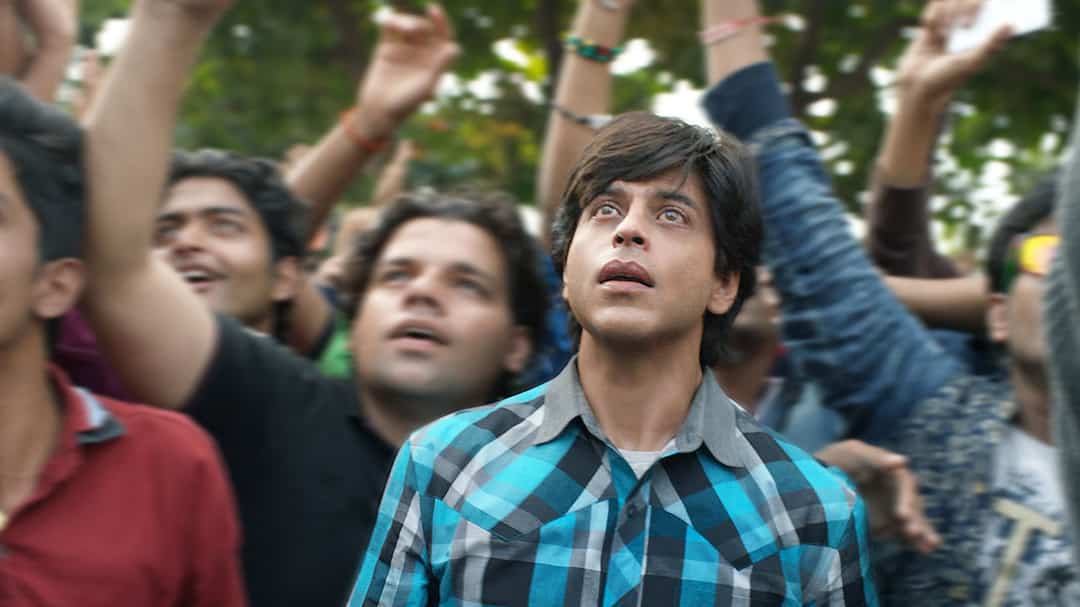 Gaurav, who is otherwise a fan, turns against his own idol after an unfortunate incident. Now, if you thought, I spoilt it for you, then no I didn't. The movie has a lot to offer, other than just the storyline.
Shahrukh, in and as Gaurav is beyond excellence. He fits in the role. He will make you laugh, cry, love, and hate him.
Gaurav has, through his easy laid-back acting made sure people recognize him. Most times in the movie, the character of Gaurav overpowers Aryan Khanna the superstar.
Most moviegoers will be unsure, as to whom do they want to support. Whether the fan, who is hurt or the superstar who is being hunted down, bit by bit.
There is a dilemma, of who is right and what is wrong. And it keeps you on the edge of your seat, till the very end.
Another good thing about the movie is that there are very few distractions. (Except of course the crying children in the theatre. That you can't do shit about.)
The movie doesn't attempt to smother the relationship between a fan and his superstar by introducing a love life in either Gaurav's or Aryan Khanna's life. There is no blackmail involved.
There are no stunts that look like what the fuck just happened. There are, however, holes in the film. It's not continuous. A lot of frayed threads just hang around the script.
You can't cut them because that kills the fabric of the movie. You can't even let them be, because they distract you.
Strangely, for a Shahrukh Khan movie, this one has no songs. Of course, there is Tamasha, but it's not unusual. Most of the time, the acting makes up for the limping story.
Sometimes, Shahrukh Khan or Aryan Khanna has an overarching effect on the overall movie. He eclipses everything else. At others, he is just a sidekick who has to play along to the tunes of his lookalike.
Overall, the acting is superb. Shahrukh has redeemed himself after Happy New Year and Dilwale. For once, after a long long time, he is just the actor without putting in any effort.
The director of the movie is confused and it reflects in the movie. Perhaps the burden of working with such a superstar overwhelmed Maneesh Sharma.
The director almost wants Shahrukh to get beaten up because he is rude, but then never executes the idea fully and convincingly.
He wants to use the idea of schadenfreude but lets the idea be, just sitting there as a prop. It is like a feast prepared all too well, with just the desserts, the starters, and some parts of the main course absent.
The ambiance built around is good, the food is not the best that should have been, given the ingredients added.
Rating 3/5.