There's a hysterical scene towards the final 30 minutes of Talvar, that has Irfan Khan, Prakash Belawadi, and some of the other CDI (
Criminal Department of Investigation
 replacing CBI here) officers parleying conflicting theories of the same murder case. One officer suspecting that the daughter was killed because she was found in a missionary position with her servant by her father, uses the term 
dharmpracharak
 to put forth the missionary position theory. A tattle ensues around 
dharmpracharak
 and the 
dharmpracharak
 theory. The scene and the lines make you laugh and squirm at the same time. It is one of those scenes in Talvar that make you wish there was more of it throughout its 120-odd minute runtime. For Talvar isn't a bad film, but it leaves you unsatisfactory, making empty jabs at the system, media, and public of course.
Talvar Movie Review
Film Review: Talvar
Cast: Irrfan Khan, Neeraj Kabi, Konkana Sen Sharma, Gajraj Rao, Prakash Belawadi, Soham Shah, Tabu.
Director: Meghna Gulzar
Verdict:
4/5
A sharp whodunit. A pale drama.
The plot is straightforward, and we are all fairly acquainted with it. Based on the 
Aarushi Talwar and Hemraj double murder case of 2008, Talvar has
14-yr old Shruti Tandon getting murdered. Everyone suspects the missing domestic help. When the domestic help Khempal, too is found murdered, accusations, guesses, theories, and ineptness blur the line between fact and fiction.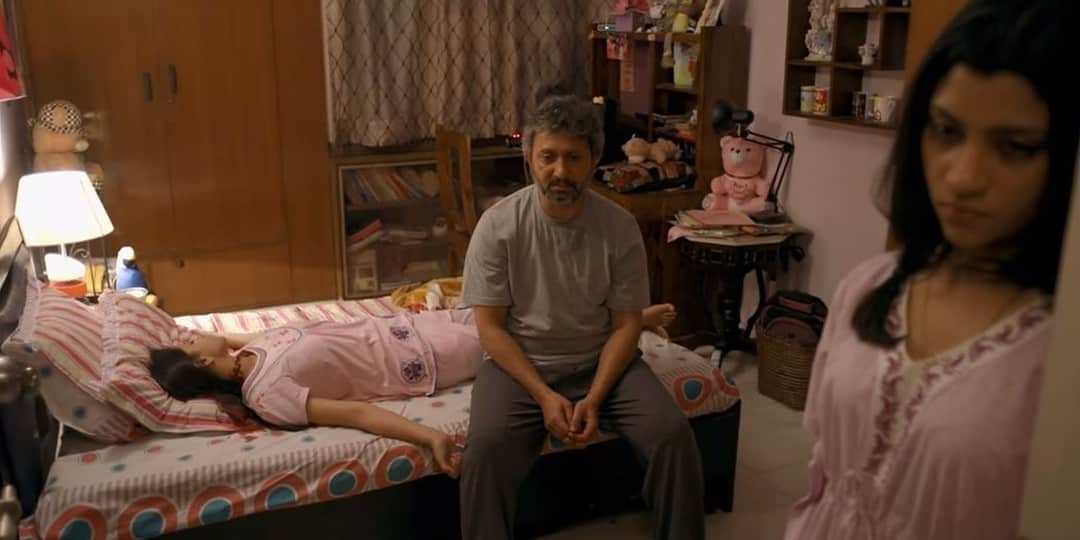 Director Meghna Gulzar does a commendable job of not wasting time in establishing her characters. It helps us digest the Roshoman-inspired events, especially since the recreation of the same sequences from different perspectives is dull at worst and ordinary at best. It is during these sequences that Talvar loses the grip. The film oscillates between the investigation and the recreation chain of events of the fateful night. The investigation and interrogation scenes are riveting, to say the least. Talvar is largely a procedural film. If you like your movies to always be in the middle of something exciting, this one may test your patience. For long drawn scenes, repeated reenactments, and stretched out routine drills are taxing. Much of the background score (especially in the initial sequences) is too theatrical and gets tiring (almost interfering with how you are absorbing the film) after a point. Even the proxy names (CDI, Tandon's, Ramesh, etc.) come across as forced and caricaturish. Also, you kind of expects a film boasting of names like Gulzar and Bharadwaj to have impactful music carrying the film in its weak moments. Instead, the film's music stands out as a weak facet, aside from the story.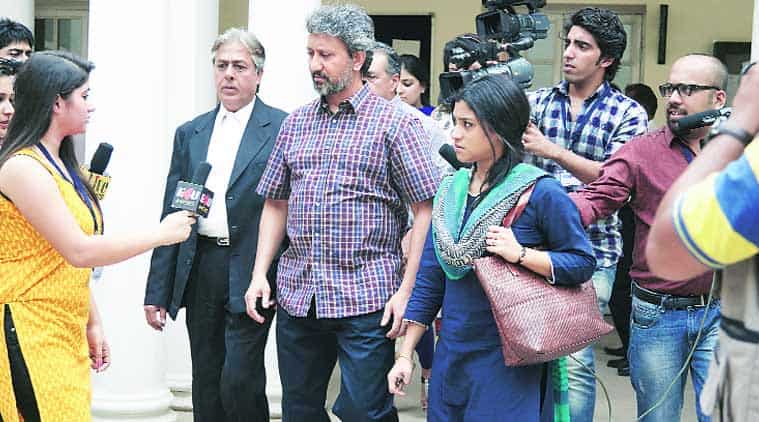 There's a sidetrack involving Irrfan and Tabu as a couple on the verge of a divorce. It is a complaint that I had with Bejoy Nambiar's Shaitan some years ago, and I repeat it again. The sidetrack, to be used to establish a cop's 'humane' attributes, ends up being nothing more than a distraction. As awesome as Irrfan and Tabu are, and as fiery as their 'divorce-camaraderie' is here, it just doesn't work. Talvar must also be applauded, for clearly separating itself from the actual happenings and not passing a judgment. You exit the theater not quite sure if the parents or someone else is the culprit. The film wraps up in a way that leaves your mind as astounded and astray as the actual case. What Gulzar and Bharadwaj nail though, is the casting. Talvar is a giant coming together of some of India's best onscreen performers. Irrfan Khan is the heart and soul of Talvar. Talvar survives because Irrfan manages to make flesh and blood of his character. It is a complex character with multiple (sometimes contrasting) layers, but trust an actor of Irrfan's caliber to nail it. The film's other standout performance comes from Gajraj Rao. As a bumbling and careless cop, Rao nails the finer nuances. Prakash Belawadi and Soham Shah too fill in their parts adequately and make an impact in the few scenes that they have. Neeraj Kabi and Konkana Sen Sharma must be applauded for breathing life into Ramesh and Nutan Tandon, but honestly, no matter how good they are, one cannot help but feel, two solid actors, are being wasted. Talvar is engaging and intelligent for most of its run-time, but the little indulgences that the makers take the liberty of, eventually stand out like a sore thumb. It works as a whodunit, not so much as a drama.
P.S. Do not miss that Ijaazat and Mera Kuch Samaan reference between Irrfan and Tabu. It is an endearing tribute to Gulzarsaab.