QUEEN
Director
: Vikas Bahl
Cast
: Kangna Ranaut, Rajkumar Rao, Lisa Haydon.
Rating
: 4 A conservative Delhi girl is ditched by her fiancé a day before marriage. Shocked, she decides to go on her honeymoon to Paris, all by herself. As her adventure unfolds, she meets new people, makes new friends, and comes back home an evolved person. Sweet and simple it is.
Plot
The movie starts off with a pre-wedding backdrop and Rani's opening monologue provides a brief glimpse of what's in store for the next 130 minutes or so. Her fiancé Vijay, played by Rajkumar Rao of Kai Po Che fame, backs off from committing to the marriage a day before the wedding. Grief-struck, Rani decides to continue her plans for the honeymoon she had planned, albeit all by herself. Upon landing in Paris, she has trouble with the lifestyle and language provides another barrier. She meets Vijaylakshmi, an Indo-French girl (played by Lisa Haydon), who offers Rani comfort and companionship.
With her, Rani attempts to free herself from the conservative mold.
Rani then moves onto Amsterdam were against her wish, she had to share a hostel room with 3 other guys, her conservative upbringing comes in the way, but only initially. The four of them bond together over time and have some of the craziest moments in the movie. Vijay tracks her down, apologizes for his behavior, and begs her to reconsider the marriage, which eventually she does not.
Review
The movie is filled with plenty of light-hearted and some hilarious scenes that force you to fall in love with Rani, and the film as a whole. Rani clutching to her handbag fighting off a thief makes you smile. Her drunken antics are extremely hilarious. Rani's father and her chubby little brother ogling at Vijaylakshmi's cleavage through their video chat makes another moment worth remembering. And one scene where Rani naively checks out dildos and sex toys in a shop in Amsterdam was fun beyond belief. The storyline seems like one tried multiple times before. Truth is far from it. The director does a fabulous job keeping the execution simple, yet refreshing. The movie flows seamlessly and does not have unexpected ups and downs that Bollywood otherwise does so often. Kangna Ranaut shines as the female lead and more than makes up for her role in Krishh 3. Her portrayal of Rani Mehra is inspiring and laudable. Rajkumar Rao plays a convincing bitchy fiancé. Lisa Haydon fills in as the dusky Indo-French beauty, playing Rani's companion in Paris to adequate perfection. Rani's three roommate-turned-friends are also equally brilliant in themselves.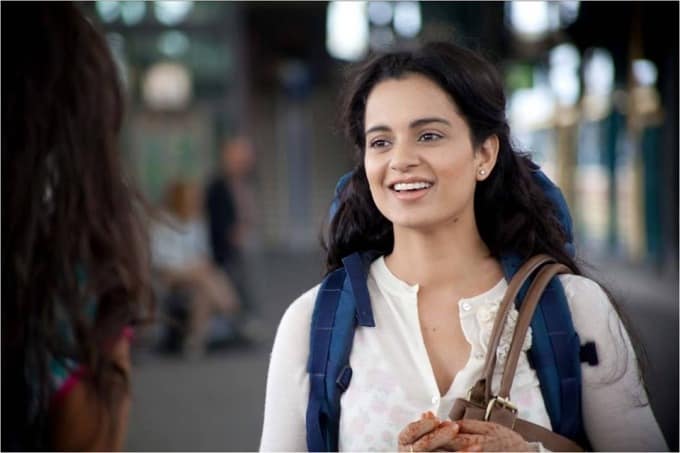 Verdict
For those who swear by the IMDB ratings, Queen holds a 9.2 as of this moment, and believe me when I tell you that it is a justified rating. This one is a non-typical Bollywood movie, refreshing and sweet with accurate comic relief. A must-watch surely.
P.S
– Do not forget to watch queen Rani Mehra's Facebook timeline just before the credits start rolling. Jai Mata Di.