Film Review: Manjhi – The Mountain Man
Cast: Nawazuddin Siddiqui, Radhika Apte, Tigmanshu Dhulia, Pankaj Tripathi
Director: Ketan Mehta
Verdict: 3/5
About 10 minutes into Manjhi – The Mountain Man, you get a sense of pretense and mendacity.
There's Manjhi, played by Nawazuddin Siddiqui, standing short, staring at a massive mountain, throwing stones at it, screaming at it, with thundering revenge-music playing in the background.
It just gives out that feeling of a wrong piece of thread on the most perfect body-type. As the film moves forward, that sense does disappear, but it is only an illusion. More on that later.
Manjhi begins on a shaky note, slowly settling into a leisurely but comfortable pace. Flat-out in the first 40-odd minutes, Ketan Mehta tackles caste-suppression, labor exploitation, and rural backwardness.
And while one of those early scenes where Nawaz tries to act friendly with the upper-caste village chief and his son, only to get beaten up, does have the required bite (done comically but impactfully by Mehta), some others (death of a laborer, sexual exploitation of a backward caste laborer's wife, etc.) do not pack the punch.
It is more so disappointing because Ketan Mehta is adept at handling dioramas that portray social injustice – viz. Bhavani Bhavai, Mirch Masala, Mangal Pandey, or even that watery 'power vs people' mockumentary called Oh Darling! Yeh Hai India.
Close on the heels of Rang Rasiya, this is the second time Mehta messes up what should have been home territory.
The film builds some interest as Manjhi and Phaguniya (his child bride, who meets him after he returns from Dhanbad) build a somewhat kittenish, somewhat rustic romance. Manjhi's fierce will to have his wife back despite opposition is superbly pulled off by Nawaz.
As time passes and the 'all is well' drama settles, Phaguniya slips off the mountain and falls to her death. You expect the film to pick up the pace and register an impact from here on. Pace, it does pick, impact, it does not register.
As time and reels pass by, one sees Nawaz's Manjhi grow old and tired and weak, and battle nature's odds and unforeseen challenges. A large segment of the second half is plain dull or mildly interesting, and heavily reminiscent of that Franco-starter 127 hours.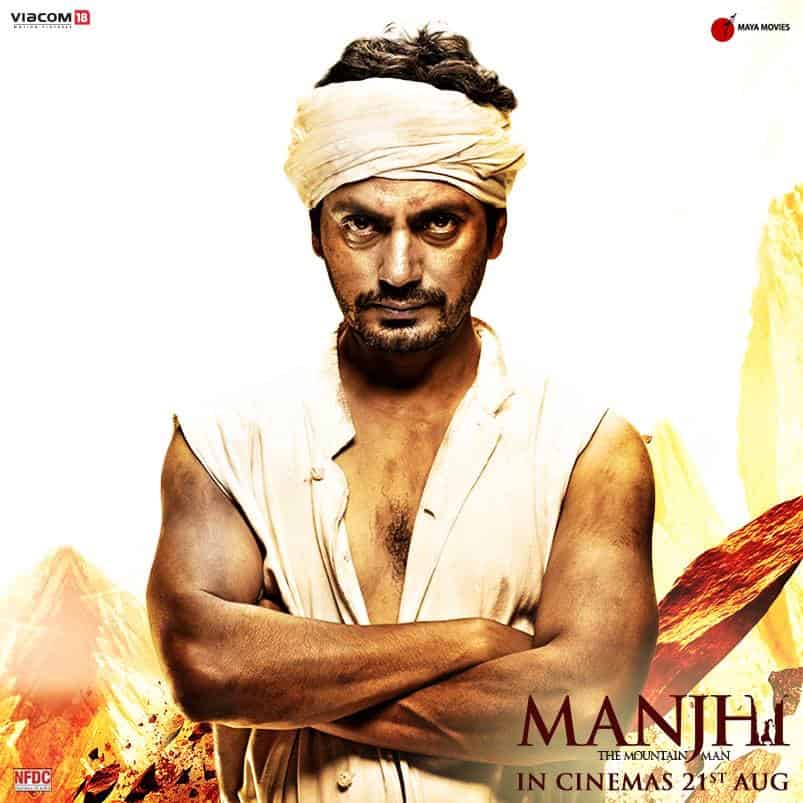 One of Manjhi – The Mountain Man's major problems is its inconsistent tone. It starts with an ambitious Bollywoodized opening scene, then hurtles between romance and social drama with amazing ease.
The film then tries to turn itself into a thriller as Manjhi heads to the mountain with a hammer and chisel. Another is its evident superficiality, as discussed before. A lot of emotion and tension is surface level. Poor CGI graphics and shoddy production only add to this feeling of B-gradedness.
The film benefits greatly from its cast. Tigmanshu Dhulia and Pankaj Tripathi as the village chief and his son respectively are sufficiently cruel, although a little too stereotypical at times. In fact, Dhulia seems to have stepped into this film straight out of Gangs of Wasseypur.
Radhika Apte is scintillating. While she doesn't have much to do except smoldering and smile, she does leave back a performance worth remembering.
In the end, it is left for India's current screen-darling to do what he does. Nawaz literally, carries the film on his shoulders, especially in the second half.
Despite a thin story-line and hackneyed treatment of the story, Nawaz makes flesh and blood of his character, lending an amazing emotion to Manjhi, that goes much beyond being just a folklore hero.
He ages as the character ages and he erodes as the character erodes, but watch out for the buoyancy with which he keeps saying "Shandaar Zabardast Zindabad!" right up to the final reel!
Nawaz is one reason why Manjhi – The Mountain Man must be watched, at least once, despite all its shortcomings.