Dilwale is an upcoming 2015 Indian romantic and musical action comedy movie. This film directed by Rohit Shetty and produced by Gauri Khan and Shetty under the banner of Red Chillies Entertainment and Rohit Shetty production respectively. The film stars Kajol, Shah Rukh Khan, Varun Dhawan and Kriti Sanon in lead roles. Yunus Sajawal has written the script for the movie while Sajid Farhad penned dialogues. Rohit Shetty has co-produced the film with Gauri Khan under the banner Red Chillies Entertainment and Rohit Shetty Productions.
Dilwale revolves around the story of the children of two competing families, who meet again after a 15 year separation. How this couple tries to overcome the violent conflict between their respective families forms the crux of the movie. The romantic action movie has been shot in beautiful locations and the songs strengthen the storyline further critics.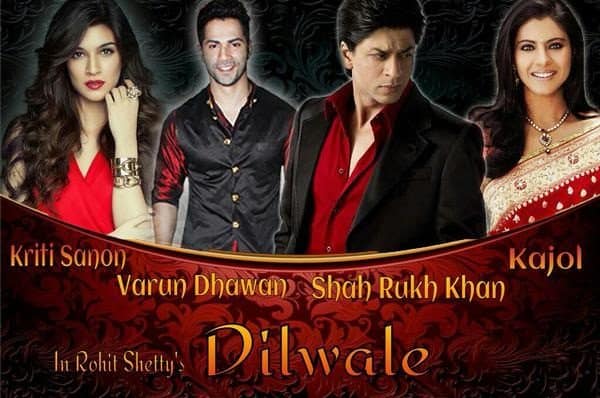 Dilwale 2015 Movie Review Release Date Music Box Office Collection Stars Cast
Dilwale's film score is composed by Amar Mohilw with songs composed by Pritam Chakraborty and lyrics written by Amitabh Bhattacharya. The film's soundtrack album was composed by Pritam Chakraborty. A track titled Gerua was released on 18 November 2015 as the first single prior to the soundtrack album release. The song sung by Arijit Singh and Antara Mitra is alright even nice sometimes and can fit into any other film for any other couple. Singh's vocals soar well.
The composition however is average. The second single to be released was Manma Emotion Jaage. The album features seven tracks and was released on 4 December 2015 by Sony Music India. Manma emotion sounds like a song from a marquee that belongs to composers attempting a new sound these days a mix of hip hop electronic beats and keeping it desi in somewhat crass way. An interesting hook is created through the saxophone drums electronic beats and some beatboxing before Amit Mishra hits it.
The film schedule to release on 18 December 2015 in different countries such as India, Australia, Norway, Pakistan, Myanmar, United Kingdom and United States. On 14 December 2015 in the United Kingdom the film received a 12A classification form the British Board of Film Classification for moderate violence.