The royally awesome Guy has returned and with a vengeance! Here is the review of Agneepath – a remake of the classic which epitomized Amitabh Bachchan as the original angry young man.
Is it worth the hype?
Read on to find out.
Agneepath – Movie Review
First of all, any comparisons with Amitabh Bachchan's cult classic would be unfair to both movies.
Hence, I'll try to refrain from that.
Watching this movie made by the debutant writer-director Karan Malhotra is a less than rewarding effort. And its length doesn't help much either.
At close to 3 hours the movie does test your patience and your mind starts to wander inevitably as to what exactly were they doing at the editing table.
THIS is why we watched it anyway
The storyline is a rehash to 80-90?s pulp cinema with Hrithik Roshan almost donning an angry young man avatar reminiscent of Amitabh Bachchan's roles.
It doesn't offer anything new in terms of plot development or treatment and the whole effort almost seems like a tribute to the bygone era.
Corny lines in places and plot holes the size of meteoric craters gape at your time and again.
And other than the main character of Vijay Deenanath Chauhan, the rest of the characters are not well etched out and appear to be half-baked caricatures instead.
Consequently, the storyline or the dialogues are not necessarily the strengths of Agneepath.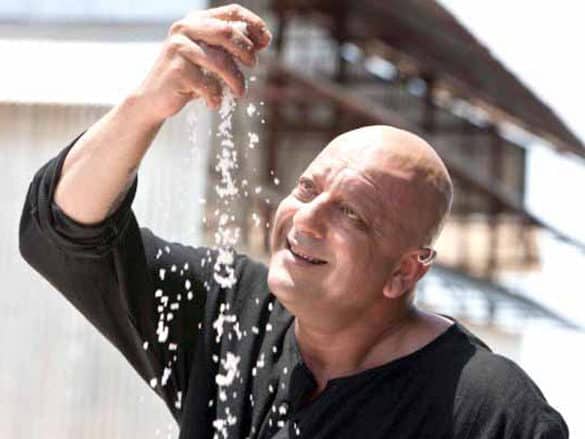 Mere toothpaste mein namak hai!
The strengths lie in the performances and specifically those by Rishi Kapoor, Hrithik Roshan, and thankfully, after a long while, Sanjay Dutt.
Rishi Kapoor manages to steal almost all of his scenes.
The character of Rauf Lala, though not well developed, is still very impactful.
Sanjay Dutt as Kancha Bhau is every bit as abominable and dreadful as required.
I could not imagine any other current actor doing this role better.
Though his screen-time in the first half is as much as of the tree in Mandwa village, the second half and the extended 'On The Waterfront'-esque climax give him ample screen-time.
CAN'T HOLD NEEDLE WITH RIGHT HAND. SO ANGRY!
Hrithik Roshan looks very earnest in his effort, a little bit too much in places.
He pitches in another good performance and manages to mouth even the corniest of lines with aplomb.
Priyanka Chopra is affable in her role which actually doesn't give her much screen-time and consequently any scope to perform.
Bottomline –
Agneepath rides on the strength of its performances. The storyline and the characters had a lot of scopes and it could have been a much much better movie had there been a mature director (like Vishal Bhardwaj) behind it. But sadly this is not that movie.
Verdict – 3/5