Ek Main Aur Ek Tu – Movie Review
Here you go…
WHAT IT IS NOT –
1 – It is NOT a remake of that shitbag of a movie called – 'What Happens in Vegas' – Leave alone the 'Vegas' part, almost everything else is different and better.
2 – It is not another run-of-the-mill-Karan-Johar-Rich-NRI love Story – THANKFULLY.
3 – It is not a movie with an over-the-top first half and a sappy second half. In fact, the second half is where the movie comes into its own and actually surprises you, pleasantly.
4 – It is also not a cerebral-complicated-entangling love story, so please don't go in looking for that. Do not expect earth-shattering cinema if that's how you like all your movies all the time
5 – And finally, perhaps a first of sorts, it is not a movie where Imran Khan does not act
WHAT IT IS –
1 – Perhaps one of the best Indian attempts at a first-rate romantic comedy
2 – It's quirky, brash in places, and thankfully less fake than Kangna Ranaut's accent (On second thoughts, anything would be less fake than that). The sense of humor fits right into place and though the laughs may be few and far in between, the movie maintains a lovely, tranquil pace throughout.
3 – Kareena Kapoor is finally back, and it was a long time coming considering she gave us gems like Kambakht Ishq and the eponymous, suicidal-tendencies-inducing excuse of a movie called Bodyguard. She is back and right in her element. She gets it almost pitch-perfect in this role. Here's hoping she does movies with at least half a script from now on.
4 – Surprise, surprise! Imran Khan is actually good in most places. After a string of award-winning eyebrow acting performances, we see Imran Khan – The actor, in Ek Main Aur Ek Tu. And he is not half-bad. (Watch out for his expressions in the Date-with-rich-heiress scene. Or when his dad (Boman Irani) tightens the tie on his neck almost like a noose. Priceless!)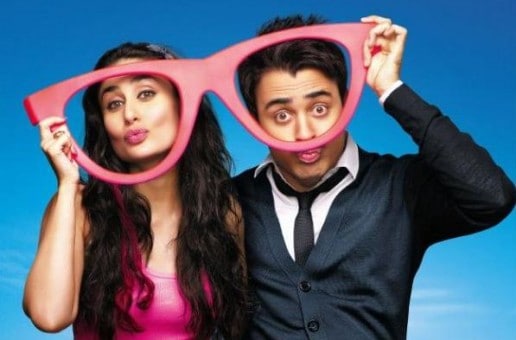 5 – And finally, it shows that the person behind the camera knows his job (And has seen enough rom-coms to know what should or should not be done). This is a confident, mature, and very assured – though somewhat safe – debut of a director.
Shakun Batra gets it right. He deserves the credit completely. I only hope he goes off-genre and tries something new and experiments more the next time he goes on to call the shots because things look promising for the man.
BOTTOMLINE –
The movie surprised me with its humor and relaxed pace. I didn't go expecting any ground-breaking cinema and came back pleasantly surprised. And, if a movie, however banal and run-of-the-mill, manages to leave you with a smile on your face and a lingering after-taste, it has done its job.