Here we contend brawler of past and present against each other to determine who has the best body in the WWE History. Wrestling has always been a melting pot of the biggest and most multidimensional athletes from all sports from football players and power lifters to bodybuilders, martial arts experts and it's showcased some of the world's most famous physiques. We looked back at the best developed bodies in the history of the squared circle, the ones who made us want to train and those who are inspiring today's new generation of wrestling fans and fitness buffs. Here we mention the The 12 Best Bodies in WWE History by Fitness Muscle Body Shape. So join us and keep visiting our site for further updates.
Superstar Billy Graham
Eldridge Wayne Coleman was born on 7 June 1943. He is an American retired professional wrestler. Currently signed to WWE under a Legend's Contract. An iconic figure in professional wrestling he worked under the ring name "Superstar" Billy Graham and gained renown for his tenure as the WWWF Heavyweight Champion in 1977–1978. The first true mass monster of pro wrestling, he legitimately benched nearly 600 pounds, and unquestionably set the standard for the larger physiques that dominated the business in the 80s. Today, the WWE refers to the wrestlers on its roster as (superstars) a moniker that has stuck since Graham wore it.
Scott Steiner
Scott Carl Rechsteiner was born on 29 July 1962. She is an American professional wrestler better known by his ring name Scott Steiner. It's hard to say what the Big Bad Booty Daddy will be best remembered for being one of the most gifted athletes in wrestling history and having one of the freakiest physiques on the planet. The Frankenstein in which he'd jump wrap his legs around an opponent's neck in midair and flip the poor fool onto his head is widely regarded as the most impressive technique ever seen in the ring. He transformed his already chiseled physique into nearly 300 pounds of Mr. Olympia-caliber mass and had another run at the top of the heap.
Hulk Hogan
Terry Gene Bollea was on 11 August 1953. He better known by his ring name Hulk Hogan. He is an American professional wrestler actor television personality entrepreneur and rock bassist. The most popular figure in sports entertainment history owes much of that notoriety to his physique one of the all time most massive. Hogan's fabled 24-inch pythons and constant exhortations to say prayers take vitamins and train hard inspired kids to exercise long before they were even allowed in gyms.
Brock Lesnar
Brock Edward Lesnar was born on 12 July 1977. He is an American professional wrestler and former amateur wrestler professional American football player and mixed martial artist. The massive Brock Lesnar is almost unstoppable when it comes to punishing his opponents. The former NCAA Division I wrestler turned to the UFC and the WWE after college, and his varied training for each sport has produced one of the most formidable physiques in the business. The infamous heel made his return to the WWE in 2012 and shows no signs of slowing down.
Batista
Batista is the ring name and he is famous this name. he was born on 18 January 1969. He is an
American actor
and former professional mixed martial artist and professional wrestler. Batista left the WWE for several years to pursue a career in MMA. He had previously trained in Muay Thai taekwondo and kali stick fighting resulting in a leaner body in spite of his massive frame. Back at his biggest Batista returned to the WWE in 2014. Dave Batista emerged onto the WWE scene during the post Attitude Era alongside other greats like John Cena and Randy Orton. After a series of injuries sidelined him in 2003 he came back to achieve the highest of accolades as the longest-reigning World Heavyweight Champion in the company's history.
David Otunga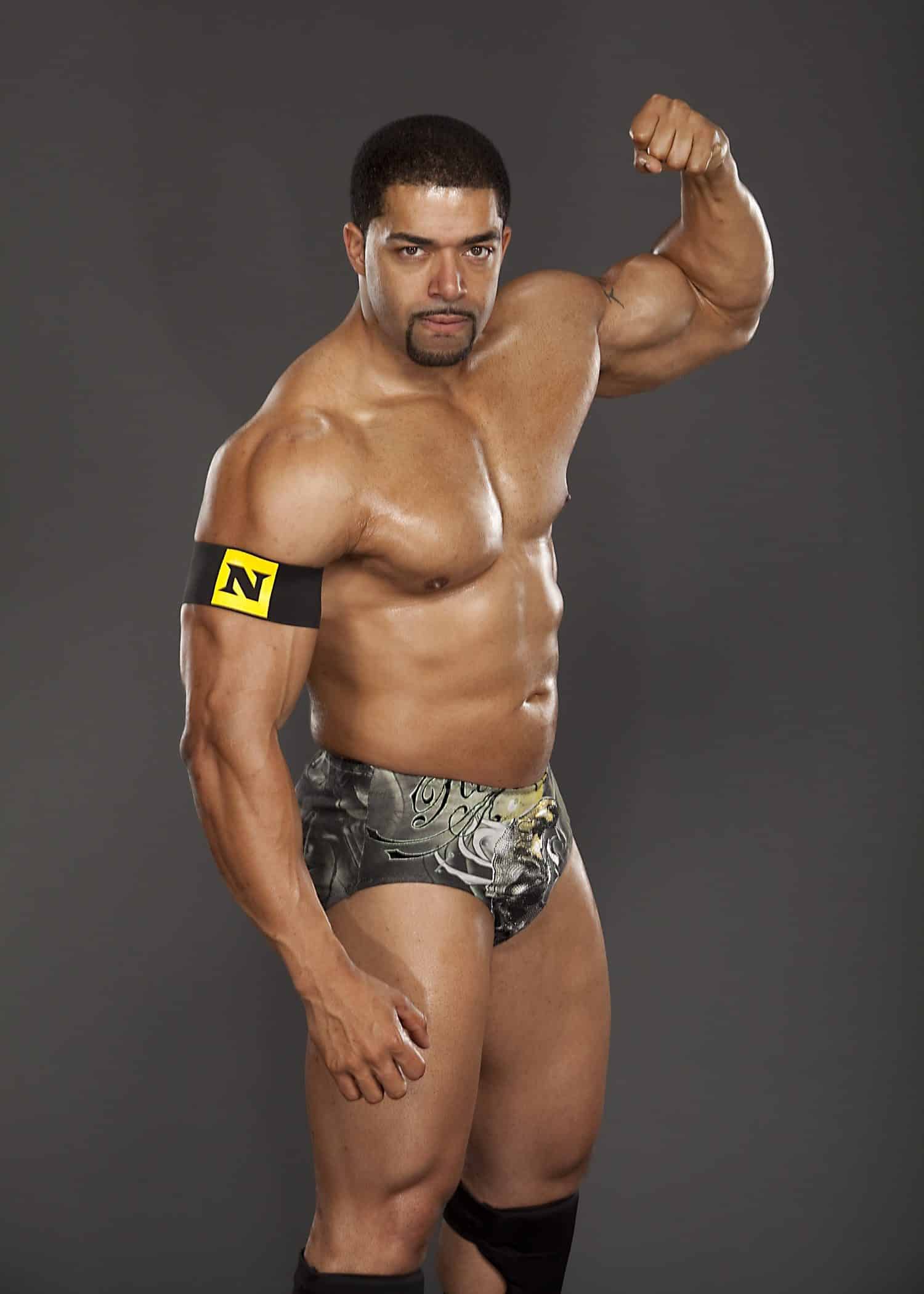 David Otunga has one of the most chiseled and trained bodybuilder physiques in the squared circle. David was born on 7 April 1980. He is an American professional wrestler lawyer and actor currently signed with WWE. He was the runner up on the first season of NXT. The former Tag Team Champion has been hitting the iron hard since his time in Cambridge resulting in explosive strength with a body seemingly built in an MIT lab.
The Ultimate Warrior
Despite having a relatively short run at the top of the game, the Ultimate Warrior remains one of the most memorable superstars in the pro wrestling chronicle. He was born on 16 June 1959. He was an American professional wrestler who wrestled most famously under the ring name The Ultimate Warrior. His unique face paint victories over the Honky Tonk Man and Hulk Hogan and nonsensical interviews were enough to set him apart but his physique may be his greatest legacy.
Goldberg
Goldberg is an American actor former professional football player and semi retired professional wrestler. He is known for his appearances with World Championship Wrestling. During his run in WCW, the former Atlanta Falcons defensive tackle racked up 173 straight victories. Though lacking in finesse and conventional wrestling skill Goldberg's sheer size and brute strength helped him steamroll a who's who of top talent in the 90s.
Triple H
Paul Michael Levesque was born on 27 July 1969. He is better known by his ring name Triple H. He is an American professional wrestler. Triple H was the mascot of rebellious Gen X'ers everywhere in the late '90s, and his physique grew along with his fame. Triple H helps direct the company outside the ring as well. He is currently the Executive Vice President of Professional wrestling promotion WWE and the founder and current share holder of NXT.
Rick Rude
Richard Erwin Rick Rood was born on 7 December 1958 better know by his ring name Rick Rude. He was an American professional wrestler who performed for many promotion including World Championship Wrestling. He often preceded matches by snatching up a microphone and asking the crowd to keep the noise down while he took off his robe and showed the ladies what "a real sexy man is supposed to look like". Rude wrestled from 1982 until his 1994 retirement due to injury, with a final match following in 1997. Rude's six pack was second to none and his trademark hip gyrations have since become a standard taunt for muscular heel wrestlers.
John Cena
John Felix Anthony Cena was born on 23 April 1977. He is an American professional wrestler rapper and actor signed to WWE. When The Rock went to Hollywood and Steve Austin retired, wrestling fans were left wondering who would lead sports entertainment through the 2000s. John Cena stepped up, displaying the body, heart and charisma of a champion. He's become the WWE's most active and visible superstar, appearing in movies, entertaining troops overseas and chalking up too many title reigns to count.
The Rock
Dwayne Douglas Johnson was born on 2 May 1972. He is also known by his ring name The Rock. Rock is an American and Canadian actor producer and semi retired professional wrestler signed wit WWE. Johnson was a college football player for the University of Miami winning a national championship on the 1991 Miami Hurricanes football team. The Most Electrifying Man in Sports Entertainment has introduced terms that have become part of the international lexicon. "Jabroni," "roody poo," and "know your role" are now all required vocabulary for being a tough guy.
Incoming search terms:
gold berg body
wwe best body
rock wwe superstar body