What do you think? Why different tattoos became so popular?
While this is owing to celebrities' style bidding. Everything they do people need to do too.
Generally, it`s being related to tattoos.
In this context, I will tell you about Rihanna`s most popular tattoos which she has done.
First of all, we may say that Rihanna is fond of tattoos. She tattoo 21 different tattoos on her sexy body.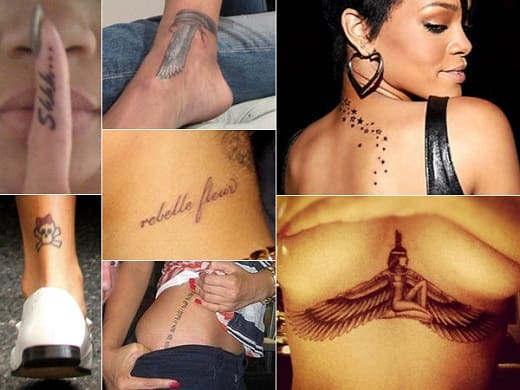 This celebrity's first tattoo is the music notes on her foot. She tattoo music notes for underlining her musician soul's nature.
Maybe the best tattoo of Rihanna is the group of little stars on her neck.
This awesome, breathtaking design is used by many celebrities, but as Rihanna says she used this popular tattoo design as a symbol of her whole achievements.
A group of stars is a design she used for underlining her sexuality and creative thinking ability.
Rihanna tattoo stars in grey color which is mean that every achievement she reached is a hard way.
So, it`s not difficult to guess how popular is this tattoo for Rihanna.
And now I want to present to you with Rihanna`s sexiest tattoo ever.
Egyptian eagle tattoo – which has deep meaning that symbolizes Rihanna`s inner nature. As we know eagle is a symbol of courage and strife.
So, Rihanna used this type of tattoo for underlining the fact that she is a brave person which not evade strife and she is not a person who will be afraid of hard competition.
These counted tattoos are Rihanna`s best tattoos ever.